ViewInFirefox (formerly FirefoxView)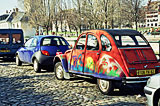 About
ViewInFirefox is a Firefox extension that allows you to open Firefox with the current page or a selected link displayed in Internet Explorer.
Installation
The Internet Explorer menu items will be installed the first time you run Firefox with the extension installed.
To remove or re-install them go to the ViewInFirefox Options dialog.
Additional Information
The extension adds menu items to the Internet Explorer context menu. Right click somewhere on the page and choose "View This Page in Firefox" to open Firefox with the current URL. Similarly, right-clicking on a link (image, anchor etc.) and choosing "Open Link Target in Firefox" opens the link target in Firefox. Obviously, the extension works only on Microsoft Windows.
ViewInFirefox isn't compatible with Norton Antivirus 2004 and older with script blocking enabled. Important: The extension uses a simple ActiveX command to launch Firefox. The full source code is open as part of the extension. Apparently, Norton Antivirus (versions prior to NAV 2005) sometimes detects this as a malicious script. I can assure you there is nothing malicious in ViewInFirefox. Please check your Norton Antivirus script blocking settings if you want to use ViewInFirefox.
Version History
1.2
FirefoxView renamed to ViewInFirefox
Firefox 4 compatibility
1.0
Firefox 3 compatibility
24 new translations: Catalan, Czech, Danish, German, Greek, Persian, Finnish, Galician, Gujarati, Hebrew, Croatian, Hungarian, Italian, Japanese, Korean, Dutch, Polish, Portuguese (Portugal), Russian, Slovak, Turkish, Ukrainian, Chinese (Simplified), Chinese (Traditional) - thanks to the BabelZilla team!
Graduates to version 1.0!
0.31.4
0.31.3
Firefox 1.5 compatibility
Spanish translation - thanks to Voyager
Portuguese translation - thanks to Fernando Pereira Silveira
0.31.1
Firefox 1.0 compatibility
0.31
French translation by Ersplus added.
0.3
When the ViewInFirefox extension is uninstalled, the IE menu items are uninstalled correctly.
0.2
Solves the Norton Antivirus false warning about a "malicious script".
Opening pages with frames will now correctly open the whole frameset.
0.1
The first version of ViewInFirefox.
Feedback
Please contact me with comments, suggestions, questions or bug reports.
Acknowledgements
ViewInFirefox was inspired by the excellent ieview extension by Paul Roub. It complements it nicely and together they allow going back and forth between Internet Explorer and Firefox.