My Personal Projects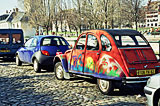 Flickriver
Flickriver is a webapp that allows viewing Flickr photos as an infinite "river of photos"
Flickriver allows viewing photos by user, group, most interesting and so on - there are even several Flickriver views that are not available of Flickr. Many goodies are included - a Greasemonkey script, a badge maker and more
Additional info about Flickriver can be found in this blog post
KPSS
KPSS means "Keep Photos Simple, Stupid"
This was a photo gallery system written in Perl a long time ago
While initially the system was completely stand alone, at a later stage the photos were synchronized with Flickr
Mozilla Work
Some additinal Mozilla related work can be found here
ColorZilla
ColorZilla is an advanced Eyedropper, ColorPicker and other colorful goodies
Among many other things, ColorZilla allows quickly taking a color reading from any point in your browser
Ultimate CSS Gradient Generator is part of ColorZilla suite of tools. It's a powerful online Photoshop-like CSS gradient editor.
ColorZilla was downloaded by millions of people and was featured as one of the PC Magazine "Top 15 Firefox Extensions"
PlainOldFavorites
PlainOldFavorites is a Firefox extension that allows using Internet Explorer Favorites directly from Firefox. Check it out here
ViewInFirefox
ViewInFirefox allows quickly opening any page loaded into Internet Explorer in Firefox
While being a Firefox extension, ViewInFirefox installs menu items in IE. Strange but true :)
Smaller projects and bits