SiteLeds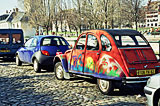 About
SiteLeds is a Mozilla Firefox extension that allows you to monitor a Web site for availability and changes by displaying a small icon on the Firefox status bar.
The extension appears in the Hacking Firefox book I co-wrote.
Why
Did you ever catch yourself repeatedly refreshing a page just to see whether it has changed? Did your server ever stopped responding and it took you several hours to notice and submit a ticket with your hosting provider? SiteLeds puts a small led on your status bar. SiteLeds will monitor a URL for you and the led will change each time the page is changed or cannot be reached.
Currently a Sample Extension
The first version of SiteLeds is 0.1 and it is a basis for the extension creation tutorial in the
Hacking Firefox book
, so it's deliberately very simple and limited. For example, if you want to change the monitored URL, you can do so by changing the
pageURL
variable in
siteledsOverlay.js
.
The Source Code
Below you'll find the complete source code for SiteLeds 0.1. If these files mean nothing to you but you want to learn how to create Firefox extensions, I suggest you get the book - it has very detailed explanations of everything you'll need and specifically of all the SiteLeds files below.
install.rdf

<

?xml 

version

=

"1.0"

?

>


 


<RDF

 

xmlns

=

"http://www.w3.org/1999/02/22-rdf-syntax-ns#"


     xmlns:

em

=

"http://www.mozilla.org/2004/em-rdf#"

>


 
    

<Description

 

about

=

"urn:mozilla:install-manifest"

>


        

<em

:id

>

{E1B2492D-E6AC-4221-A433-C143E3A1C71E}

</em

:id

>


        

<em

:version

>

0.1

</em

:version

>


        

<em

:name

>

SiteLeds

</em

:name

>


 
        

<em

:description

>

Site Status Monitor

</em

:description

>


        

<em

:creator

>

Alex Sirota

</em

:creator

>


        

<em

:homepageURL

>

http://www.iosart.com/firefox/siteleds

</em

:homepageURL

>

    
 
        

<em

:targetApplication

>


            <Description

>


                

<em

:id

>

{ec8030f7-c20a-464f-9b0e-13a3a9e97384}

</em

:id

>


                

<em

:minVersion

>

0.9

</em

:minVersion

>


                

<em

:maxVersion

>

1.1

</em

:maxVersion

>


            </Description

>


        

</em

:targetApplication

>


     
        

<em

:file

>


             

<Description

 

about

=

"urn:mozilla:extension:file:siteleds.jar"

>


                 

<em

:package

>

content/

</em

:package

>


                 

<em

:skin

>

skin/classic/

</em

:skin

>


                 

<em

:locale

>

locale/en-US/

</em

:locale

>


             </Description

>


        

</em

:file

>


      </Description

>

      
</RDF

>

chrome.manifest




content

 

siteleds

 jar:chrome/siteleds.jar!/content/


locale

 

siteleds

 en-US jar:chrome/siteleds.jar!/locale/en-US/


skin

 

siteleds

 classic/1.0 jar:chrome/siteleds.jar!/skin/classic/


overlay

 chrome://browser/content/browser.xul chrome://siteleds/content/siteledsOverlay.xul


chrome

content

contents.rdf

<

?xml 

version

=

"1.0"

?

>


 


<RDF

:RDF xmlns:

RDF

=

"http://www.w3.org/1999/02/22-rdf-syntax-ns#"


         xmlns:

chrome

=

"http://www.mozilla.org/rdf/chrome#"

>


 
    

<RDF

:Seq 

about

=

"urn:mozilla:package:root"

>


        

<RDF

:li 

resource

=

"urn:mozilla:package:siteleds"

/>


    

</RDF

:Seq

>


 
    

<RDF

:Description 

about

=

"urn:mozilla:package:siteleds"


            chrome:

displayName

=

"SiteLeds"


            chrome:

author

=

"Alex Sirota"


            chrome:

name

=

"siteleds"


            chrome:

extension

=

"true"

/>

 
 
    

<RDF

:Seq 

about

=

"urn:mozilla:overlays"

>


        

<RDF

:li 

resource

=

"chrome://browser/content/browser.xul"

/>


    

</RDF

:Seq

>


 
    

<RDF

:Seq 

about

=

"chrome://browser/content/browser.xul"

>


        

<RDF

:li

>

chrome://siteleds/content/siteledsOverlay.xul

</RDF

:li

>


    

</RDF

:Seq

>


 


</RDF

:RDF

>

siteledsOverlay.js

var

 gSiteLedsLastRequest = 

null

;


var

 gSiteLedsLastContent = 

null

;
 


function

 siteLedsCheckPage

(

)

 

{


    

var

 pageURL = 

'http://www.iosart.com/firefox/siteleds/index.html'

;
    gSiteLedsLastRequest = 

new

 XMLHttpRequest

(

)

;
    gSiteLedsLastRequest.

onload

 = siteLedsPageLoaded;
    gSiteLedsLastRequest.

onerror

 = siteLedsPageError;
    gSiteLedsLastRequest.

open

(

'GET'

, pageURL

)

;
    gSiteLedsLastRequest.

send

(

null

)

;


}


 


function

 siteLedsPageError

(

)

 

{


    

var

 ledElement = document.

getElementById

(

'siteleds-statusbar-panel'

)

;
    ledElement.

setAttribute

(

'sitestate'

, 

'error'

)

;
    setTimeout

(

siteLedsCheckPage, 

900000

)

;


}


 


function

 siteLedsPageLoaded

(

)

 

{


    

var

 ledElement = document.

getElementById

(

'siteleds-statusbar-panel'

)

;
 
    

if

 

(

gSiteLedsLastRequest.

status

 == 

200

)

 

{


        

var

 prevContent = gSiteLedsLastContent;
        gSiteLedsLastContent = gSiteLedsLastRequest.

responseText

;
        

if

 

(

(

prevContent != 

null

)

 && 

(

prevContent != gSiteLedsLastContent

)

)

 

{


            ledElement.

setAttribute

(

'sitestate'

, 

'modified'

)

;
        

}

 

else

 

{


            ledElement.

setAttribute

(

'sitestate'

, 

'ok'

)

;
            setTimeout

(

siteLedsCheckPage, 

900000

)

;
        

}

 
    

}

 

else

 

{


        ledElement.

setAttribute

(

'sitestate'

, 

'error'

)

;
        setTimeout

(

siteLedsCheckPage, 

900000

)

;
    

}




}


 
window.

addEventListener

(

"load"

, siteLedsCheckPage, 

false

)

;

siteledsOverlay.xul

<

?xml 

version

=

"1.0"

?

>




<

?xml-stylesheet 

href

=

"chrome://siteleds/skin/siteledsOverlay.css"

 
                 

type

=

"text/css"

?

>


 


<!DOCTYPE overlay SYSTEM "chrome://siteleds/locale/siteledsOverlay.dtd">


 


<overlay

 

id

=

"siteleds-overlay"


         

xmlns

=

"http://www.mozilla.org/keymaster/gatekeeper/there.is.only.xul"

>


 
     

<script

 

type

=

"application/x-javascript"

 
             

src

=

"chrome://siteleds/content/siteledsOverlay.js"

/>


 
     

<stringbundle

 

id

=

"siteleds-strings"

 
             

src

=

"chrome://siteleds/locale/siteledsOverlay.properties"

/>


 
     

<statusbar

 

id

=

"status-bar"

>


         

<statusbarpanel

 

class

=

"statusbarpanel-iconic"


                

id

=

"siteleds-statusbar-panel"

 
                

tooltiptext

=

"&siteLeds.tooltip;"


                

sitestate

=

"unknown"


                

insertbefore

=

"statusbar-display"

/>


     </statusbar

>


</overlay

>

locale

en-US

contents.rdf

<

?xml 

version

=

"1.0"

?

>


 


<RDF

:RDF xmlns:

chrome

=

"http://www.mozilla.org/rdf/chrome#"


         xmlns:

RDF

=

"http://www.w3.org/1999/02/22-rdf-syntax-ns#"

>


 
    

<RDF

:Seq 

about

=

"urn:mozilla:locale:root"

>


        

<RDF

:li 

resource

=

"urn:mozilla:locale:en-US"

/>


    

</RDF

:Seq

>


 
    

<RDF

:Description 

about

=

"urn:mozilla:locale:en-US"


                     chrome:

author

=

"Alex Sirota"


                     chrome:

displayName

=

"English(US)"


                     chrome:

name

=

"en-US"

>


        

<chrome

:packages

>


            

<RDF

:Seq 

about

=

"urn:mozilla:locale:en-US:packages"

>


                

<RDF

:li 

resource

=

"urn:mozilla:locale:en-US:siteleds"

/>


            

</RDF

:Seq

>


        

</chrome

:packages

>


    

</RDF

:Description

>




</RDF

:RDF

>

siteledsOverlay.dtd

<!ENTITY siteLeds.tooltip "SiteLeds Status Icon">


siteledsOverlay.properties




pageModified

=

The monitored page was modified.




pageError

=

There was an error retrieving the monitored page.




skin